Sprinkler & Irrigation Systems
Save more time, water and money.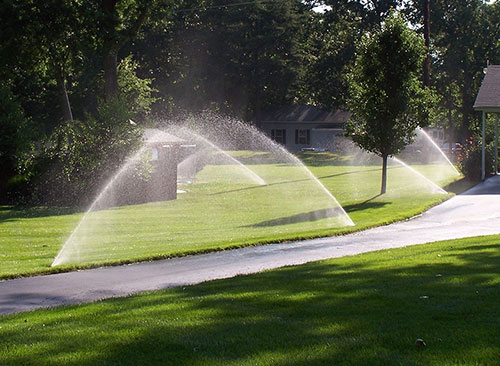 An automated irrigation system protects and adds value to your property. Let our experts create a high-tech protective sprinkler system for your landscaping. We will design your irrigation system for the best water, energy and cost efficiency. Our well-planned systems will start you on a path to a healthy, green lawn with a thriving landscape and will protect your landscaping year after year.
Better for your lawn and better for the environment.
Show off your lush lawn and your environmental responsibility. A properly installed sprinkler system supplies water exactly where and when it is needed, eliminating run-off and wasted water. Efficient sprinkler systems also use minimal energy.
We use only top-quality sprinkler systems.
There are many lawn sprinkler brands available, but we are not afraid to say, "No" when asked to install inferior products. Top-quality products from manufacturers like Hunter Industries, Rain Bird Corporation, and The Toro Company perform best and last longest. When one of our irrigation experts comes to your house for a free consultation, we will show you the actual sprinkler heads that we recommend. The difference between the cheap plastic and the quality-molded heads is obvious when you see them side-by-side.
Irrigation Systems
Our experienced staff will come to your home or business to discuss your landscaping needs. We take into consideration annual rainfall, soil quality, building codes and other factors. We then provide a complete and accurate estimate of the extent of the lawn irrigation system, the number of sprinklers and the amount of supplies needed to cover your lawn efficiently. Each sprinkler system we install is custom-designed for your unique lawn and garden.
Our skilled installers will:
Discuss with you all of your project specifications and requirements
Carefully prepare your installation site with proper layout, staking, excavation, trenching and grading
Professionally cut and join pipe, using their understanding of basic hydraulics and the limitations of different piping systems
Lay piping, install water-delivery and backflow-prevention components and install mechanical, hydraulic and electrical controls with minimal disturbance to your lawn
Test your system after installation and make any needed adjustments or repairs
Long after your system is installed, you can count on us for regular maintenance and future repair service.